MAJOR WINTER STORM MOVES IN

We have a little over 6"on the ground by 10 a.m.!, and it is snowing rather heavily (at least in south Roanoke). It started as smaller more powderly flakes. But, now nice large snowflakes are falling.

Only on chart at this point. Forecasts now are reflecting the high accumulation numbers I've been touting for days. Official forecast is near a foot of snow, perhaps more. The shorter duration of this event is what is keeping if from being 18+". It should mainly be over by supper or a little after. Had it gone 24 hours like this ... Whew!

Here is the high res NAM, showing 16-24" througout Roanoke County: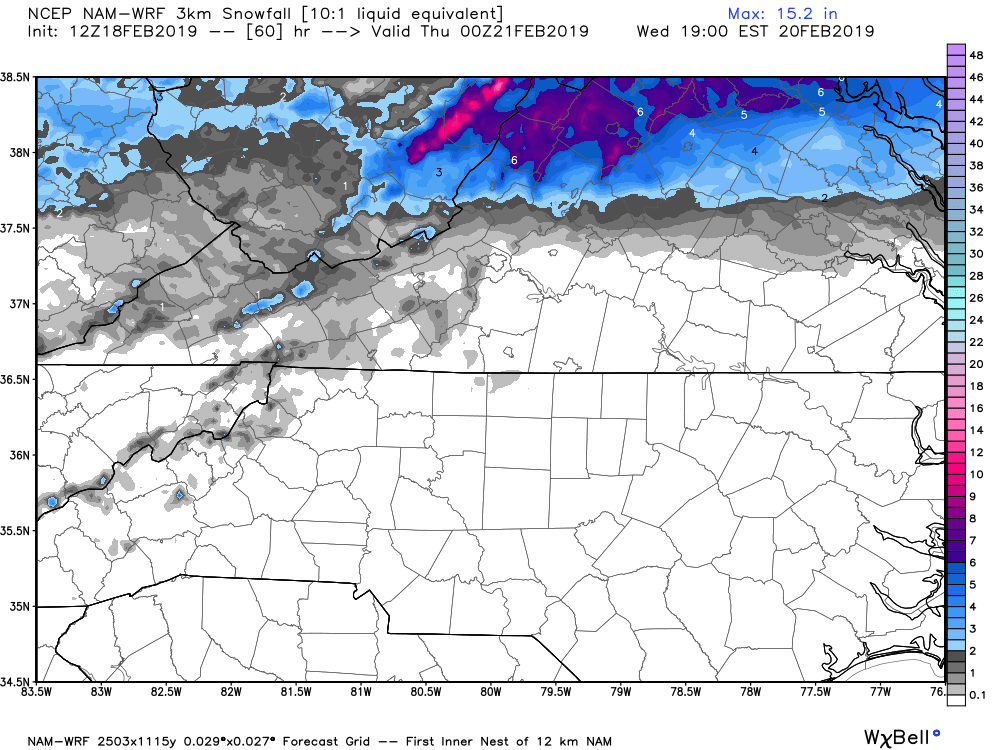 Here is the Euro for comparison. It shows 11" in city, 13" southward.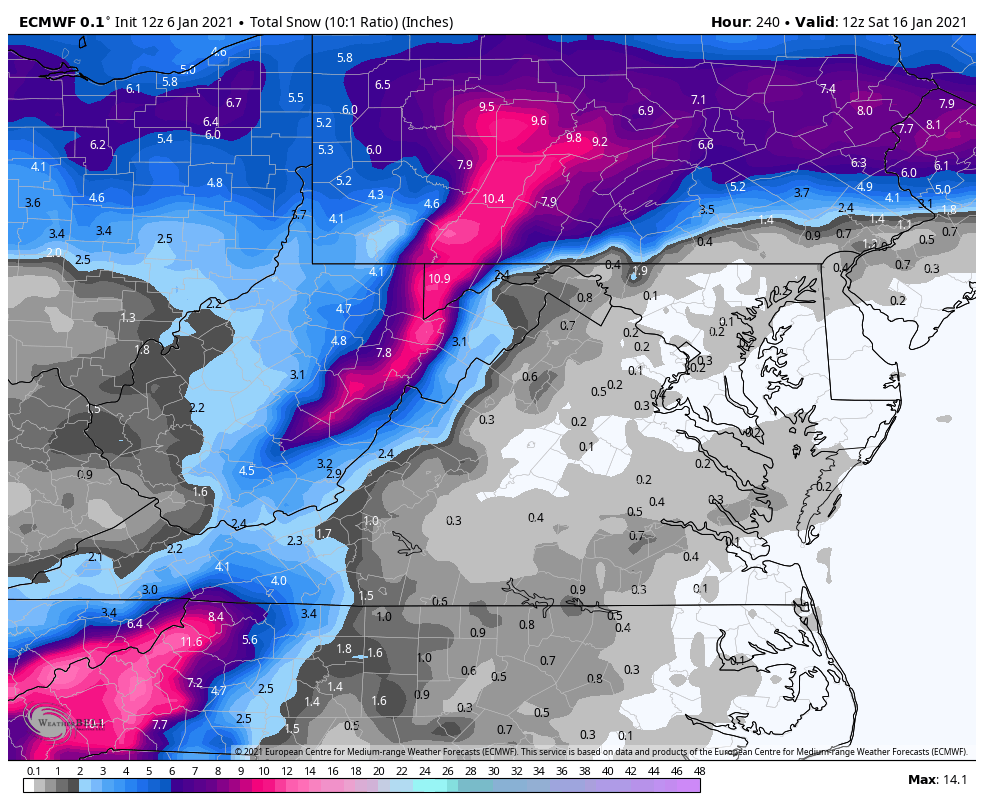 The newer Canadian very high res model shows 13" -- about right.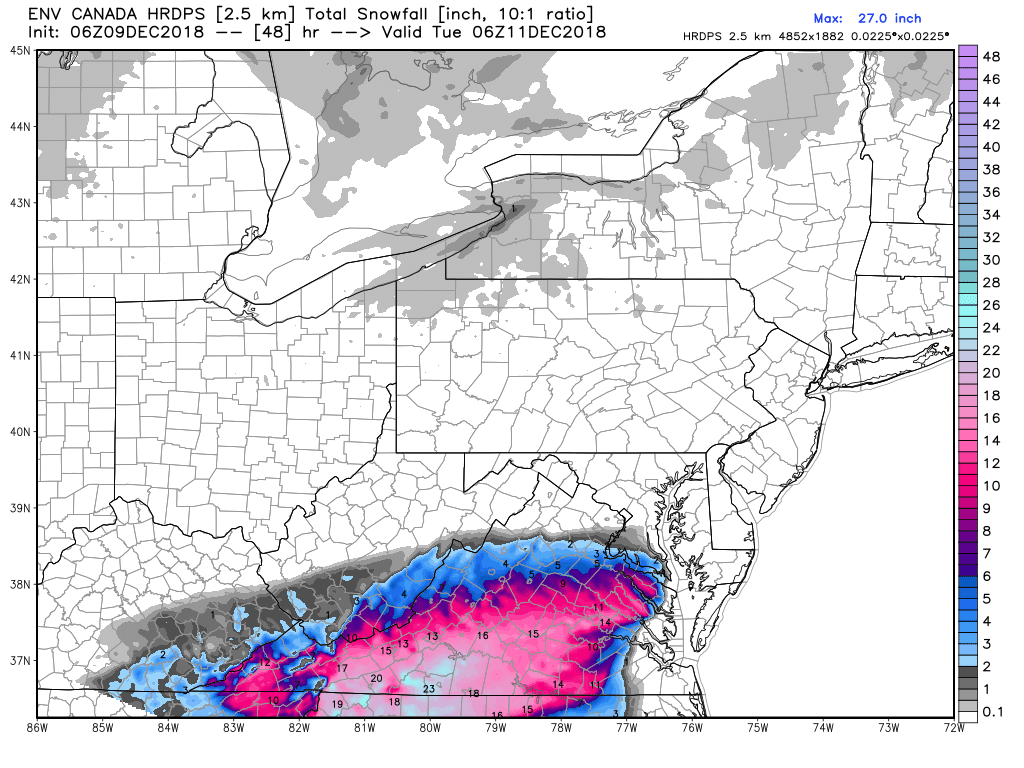 I'm still going with 9-12" with 8-15" as larger possibilities.

Anyway, drive carefully...




Looking further out -- next precip is about Thursday with a chilly rain or freezing rain briefly overnight.

Stay tuned.

---------------

BTW - My newest article in the Roanoke Times op-ed section can be found here:
https://www.roanoke.com/opinion/commentary/mayo-trouble-for-climate-alarmists-are-we-on-the-same/article_09f47341-4b17-5a06-80bc-cbfddaf9495a.html

=========

This forecast is given as is ... with no warranty of any kind. It is for entertainment purposes only. Any action regarding life or property should be contingent on the official forecast of the National Weather Service, an agency of the U.S. Government. Only the National Weather Service is the source of official forecasts ... not the Weather Channel, Accuweather, Weatherbug, WSI [which many TV stations use] or any other private group.

---------------------------------------------------------------------------------------------------------------------------------------------------------------------

=============================================================================================================

CLIMATE NOTE - Kinda for fun. Just givin' some facts.

THE CHILL OF SOLAR MINIMUM: The sun is entering one of the deepest Solar Minima of the Space Age. Sunspots have been absent for most of 2018, and the sun's ultraviolet output has sharply dropped. New research shows that Earth's upper atmosphere is responding.

"We see a cooling trend," says Martin Mlynczak of NASA's Langley Research Center. "High above Earth's surface near the edge of space, our atmosphere is losing heat energy. If current trends continue, the upper atmosphere could soon set a Space Age record for cold."

UPDATE: Upper atmospheric temps have dropped very dramatically, releasing 10 times the usual heat energy of normal.

This is a portending of global cooling at even lower levels. Even lately, the global surface temperature anomaly has dropped BELOW the zero line twice in the last couple of months. This is after a LONG period of above normal ranging from .4 to 1.5 degrees above normal.

More extensive interesting information coming soon.

========

You can send any comments to wmayo444@cox.net or see me!