WELL,

ANY

SNOW OR NOT?

Latest forecast now has taken out accumulating snow, or anything more than "little or no accumulation." As previously mentioned, snow will accumulate all around us, but not in Roanoke. Well, that is the official line, and that is quite possible. Ya have to almost laugh at this snow chart: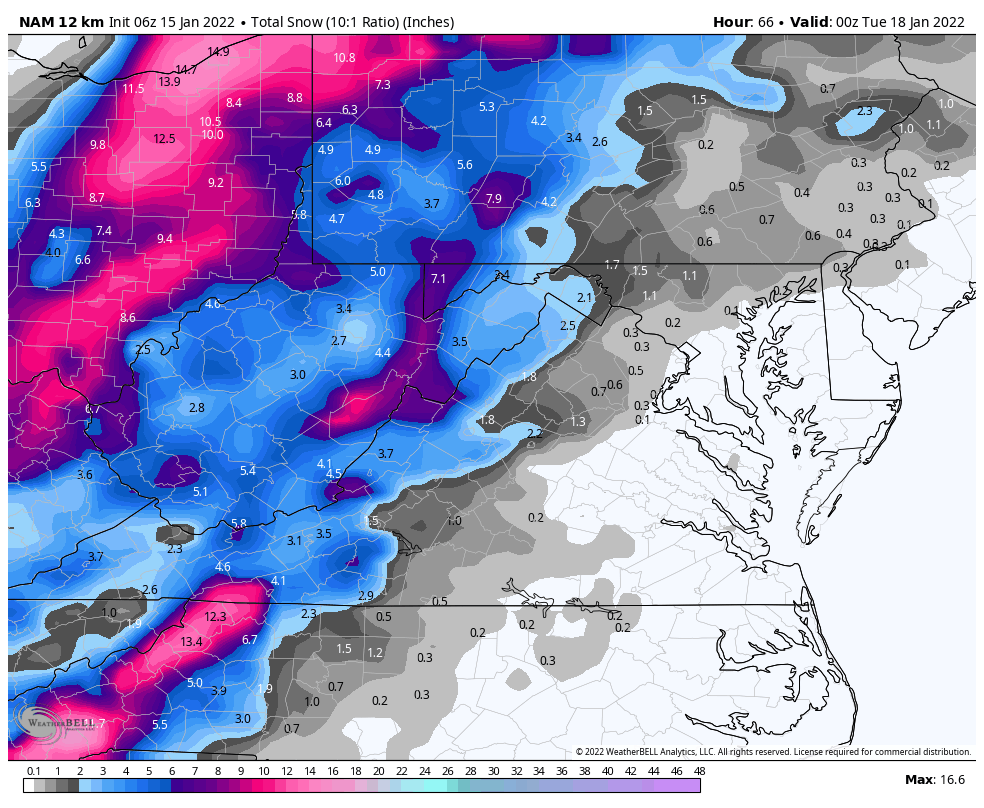 There we are in the higher WHITE zone of NO snow.
However, some other models have been pulling the snow to our southeast back toward us a little, and put us back into the 1" zone. It would begin about 3 am give or take.
So, I'll say there is still possibility for a dusting ot an inch or so, AND, it will make the cold roads very tricky.
In any case, this ain't a big one, so not a lot more ranting about this, so we'll just see when we wake up in the morning.

Warm up is still expected by later in the week. More on that soon.

===========

P.S. I fixed the missing map below in the climate watch section below, and corrected omission of two words (in italics).

=========

Oh, my op-ed (editorial) in

The Roanoke Times

came out a while back. You can see it here:
http://www.roanoke.com/opinion/commentary/mayo-climate-catastrophe-why-are-they-making-it-hard-to/article_624993b0-1e59-5167-8a76-e9a5b42373fc.html

This forecast is given as is ... with no warranty of any kind. It is for entertainment purposes only. Any action regarding life or property should be contingent on the official forecast of the National Weather Service, an agency of the U.S. Government. Only the National Weather Service is the source of official forecasts ... not the Weather Channel, Accuweather, Weatherbug, WSI [which many TV stations use] or any other private group.

---------------------------------------------------------------------------------------------------------------------------------------------------------------------

=============================================================================================================

CLIMATE NOTE - Kinda for fun. Just givin' some facts.

In the "basically outright deception" department....

vox.com had an article challenging a particular person's take on climate change. It's fine to challenge. We need to have open debate, as long as it allows boths sides to participate in the discussion.

The disputed person was declaring that the bitter cold of late showed that the climate isn't changing much, and not really by human causes. Well, they were right in pointing out that cold weather over the US in the short term IS NOT proof that climate isn't changing. In fact, we are still consistenly over the "norm" established by 1990-2010 averages (though not by much lately).

They went on to show a global map that was "proof" that we are hugely overly warm as a planet. THAT ... is where they didn't do right--in two clear ways. 1) They choose a snapshot, a map of ONE DAY, not a map of 2017 or even a month. 2) The given map is a distortion of reality. A tip is that the map desription mentioned something about as adjusted or as corrected temps.

Here is their map: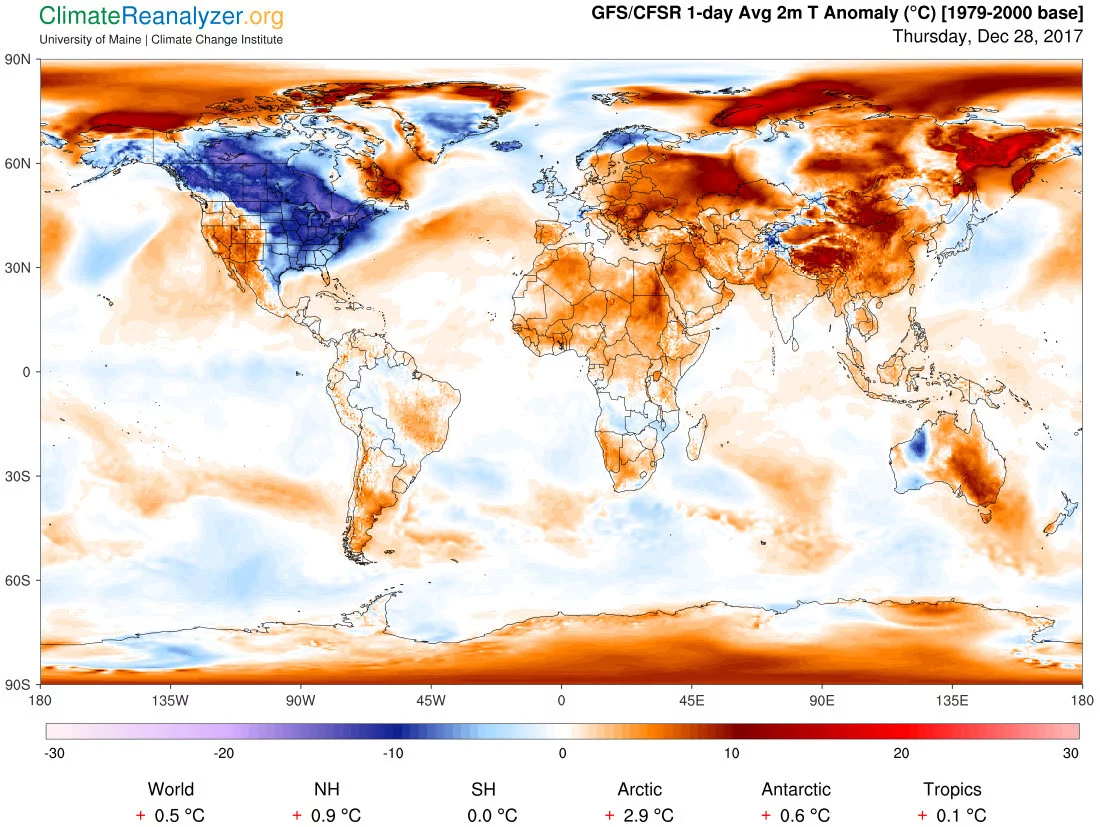 Let's look at a "real" unaltered map for the last week that shows a much colder planet (and the one-day would, too). Lots of BLUE. I mean look above. It's not even in the same world.


Do you see that for the whole month of Dec., we are at .389°C above normal. That's near .7 of one degree Fahrenheit.
But even that isn't the best take. Let's look at the whole year of 2017:
That's showing about .377°C above. That's quite a bit less than the .457°C of 2016 seen below.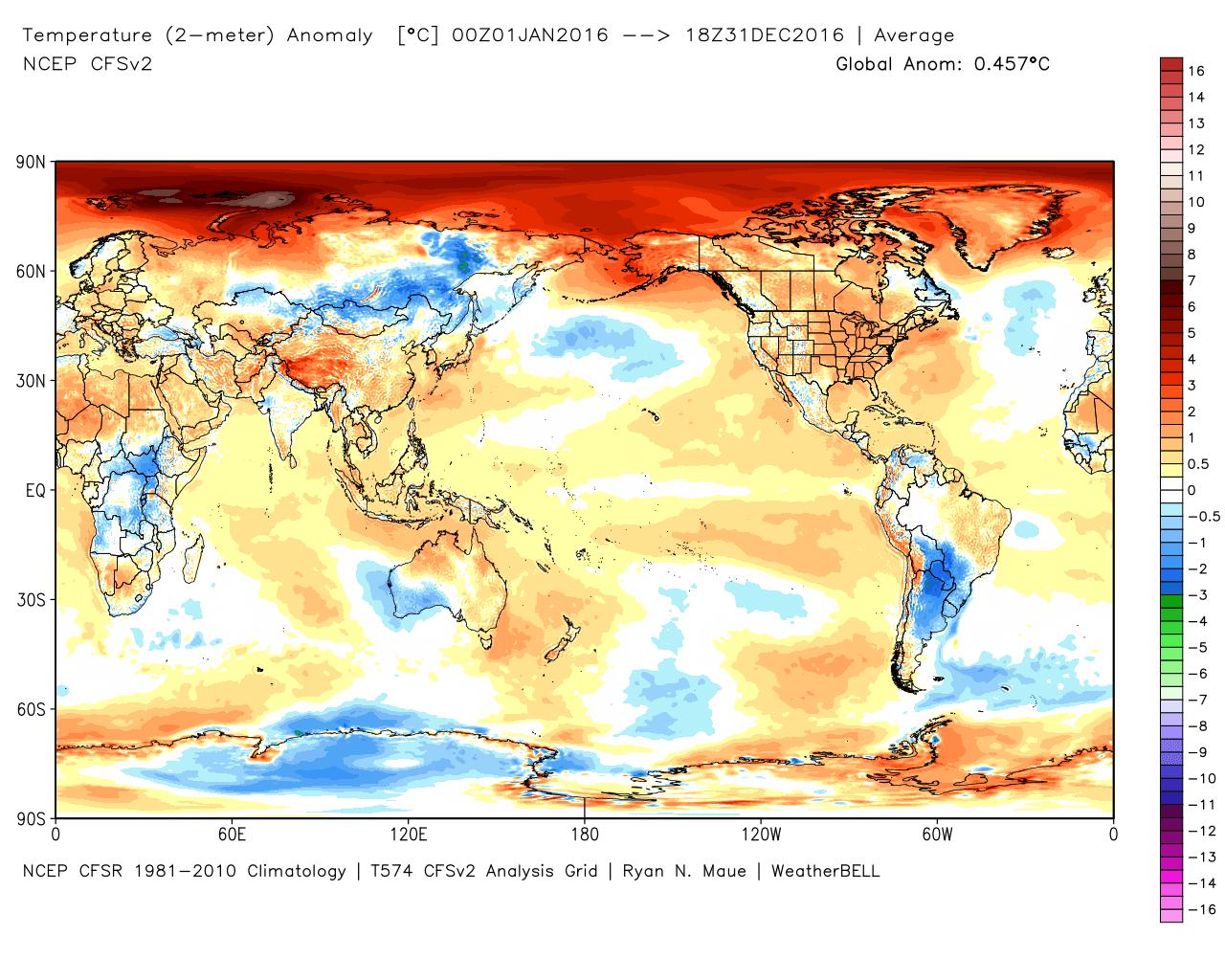 I'm sure we'll hear from some quarters that 2017 was the hottest year ever, or something close. Somehow, the touted long range "climate models" say we should be now hugging .8 to 1.0°C and climbing to near 1.5 in the next few years. I'm sorry. It's like the old the Arctic-will-be-ice-free in summer by 2011, then 2014, then 2016, and now extended again. If it didn't happen when they said it should have (over and over and over), then they are simply missing the boat.
Again, as previously mentioned. It has been shown that the lack of a major volcanic eruption in the last couple of decades or so can be responsible for lack of .2°C temp cooling. We are overdue, and some are percolating threateningly even now. If that gets factored in, now or as it happens, it would cancel more than half the warming we see. It leaves +.17°C which IS REALLY SMALL.
It's concerning to me to see maps and graphs of temperatures that don't seem to match reality. The graphs I've given are taken straight from NCEP (the top of the National Weather Service--National Center for Environmental Prediction, part of NOAA, NWS).
The article also should have taken a look at a bigger picture than one day, and stuck to real temperatures.. 'Nuf said.
========
You can send any comments to wmayo444@cox.net or see me!
*Models consulted, sometimes used as abbreviated:

GFS - Global Forecast System - Main US-ran global model - longest range (to 16 days). Recently updated with much higher resolution.

NAM + Parallel NAM - North America Mesoscale - Regional, not global model.

NAM/WRF + Parallel - High res model (parallel is even higher res)

ECMWF - European model, including ensembles (EPS) and weeklies, etc.,

UKMET - British model

NAVGEM - New Navy model (replaced NOGAPS, older one)

RAP - Rapid Refresh Model (short term run hourly, covers up to 21 hours now)

HRRR + experimental HRRRX - High Res Rapid Refresh (very high zoom, updated every hour, also for limited number of hours projection)

DGEX - an acronym for the Downscaled GFS with Eta Extension. DGEX has been developed as an interim solution to providing high-resolution forecast guidance for populating the digital forecast database at extended forecast projections.

It is produced by running the full 12-km, 60 level, Eta model from forecast hour 78 to forecast hour 192 using lateral boundary conditions

Canadian GEM and RGEM - Global and regional models. Plus CanSIPs monthlies.
Canadian HRDPS - very local high res model
SREF - Short Range Ensembles
NDFD - National Digital Forecat Database

FIM9 - New experimental US model using hex high res grid. Supposed to replace the GFS eventually.


There are other models such as the Brazilian, German, French, and Japanese (JMA)

I also consult CFSv2 (Climate Forecasting System) for long range

I do not have BUFKIT.

*Other abbreviations used:


WX - Weather

NCEP - National Center for Environmental Prediction (Nat'l Headquarters of the Nat'l Weather Service)

HPC - Hydrological Prediction Center (National prediction office of NWS)

CONUS - Continental US

PCPN - Precipitation

SYS - System

NE - northeast, SE - southeast, NNW north-north-west, etc.

NAO - North Atlantic Oscillation (negative suggests cold east US)

AO - Arctic Oscillation (negative suggests cold east US)

PNA - Pacific North-Atlantic Oscillation (positive suggests stormier east)

EPO - Eastern Pacific Oscillation

WPO - Western Pacific Oscillation

MJO - Madden-Julian Oscillation (a cycle of precip-temps based on certain trade winds/currents). There are eight phases. Some of the eight may be of different effect, depending on season.

SOI - Southern Oscillation Index
QBO - Quasi-Biennial Oscillation
---

GENERAL CURRENT SNOWFALL MAPS:

CLICK HERE for graphic of north Mid-Atlantic snowdepth

CLICK HERE for general USA snowdepth (Air Force)

CLICK for month to date snowfall for VIRGINIA

CLICK for season to date snowfall for VIRGINIA

---
DICLAIMER AND COMMENT: This page is just for fun, and my forecast, may vary from the National Weather Service by quite a bit a times. There is no liability assumed for anything resulting from this page. Do not use this page to plan anything. Refer to official National Weather Service forecasts for responsible action. I studied some meteorology at The Florida State University School of Meteorology and do study various models and internal weather service discussions, and was fully trained in surface weather observation as an ASOS augmenter in preparation for working at a surface weather station. In any case, any forecast on this page which is more than 8-12 hours old should be disregarded as out-of-date. If you have any comments, leave me e-mail.
To e-mail me click button: